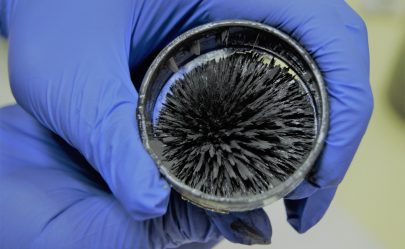 Magnetorheological (MR) fluid Solutions
ARUS MR TECH` (AMT) range of top of the line magnetorheological (MR) fluids is ideally suited to the wide variety of different applications. It is optimized for semi active shocks/dampers, clutches, actuators, brakes, engine mounts, haptic devices, robotic applications, seismic dampers and many more.
Know More
Why AMT – Magnetorheological (MR) Fluids ?

Broad range of yield stress achievable at minimal Field intensity

Wide range of Operating Temperature

Rapid response to Magnetic field (Milliseconds)

Settling resistant with proven stabilizers (additives)

Highly stable at ON/OFF state

Optimum Viscosity & Density

" Discover the marvel of AMT – Smart fluids"

Our infrastructure is boasted with well-equipped high tech manufacturing base with R&D laboratory.

Products
Formulated and engineered in Italy, Made in India product

MR Solutions
AMT's range of Magnetorheological (MR) fluids is currently the best MR solutions in terms of Technical and functional characteristics.

Certification
Tested by MCR series and certified by Industry Professionals, a pioneer in Magneto – Rheometry testing equipment.

Quality Check
Our products undergo stringent quality check by certified technicians.

Dedicated Team for Technical Assistance and After-Sales Customer support.